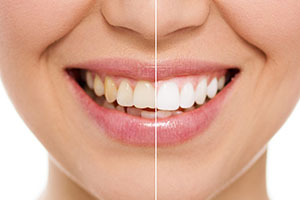 How long do the effects of teeth whitening last?
If you have discolored teeth, Dr. Charles Anonye may recommend teeth whitening in York, Pennsylvania. The effects of teeth whitening are not permanent. If a patient exposes their teeth to staining foods and beverages, they may see the brightness of their smile begin to fade after as little as one month. However, for patients who avoid staining foods and beverages, the whiteness of their smile can last for up to a year. At that point, the patient may wish to have another whitening treatment or a touch-up treatment performed.
What is Zoom!® whitening?
Our dentist is proud to offer Zoom! whitening, the leading brand of professional teeth whitening, at Heritage Dental. With Zoom! whitening, your whitening treatment is customized to your individual needs. Your results will depend on the natural color of your teeth, the level of discoloration, and which Zoom! treatment our dentist recommends.
What is at-home whitening?
If you choose at-home whitening, our dentist will provide you with custom-made bleaching trays and a gel bleaching product. Wear the trays with the gel as prescribed by our dentist. Usually, treatment time is for several hours a day or during the night for up to four weeks.
Please contact our dental office today to learn more and to schedule your next appointment.