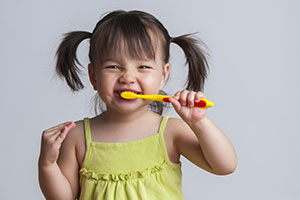 When should my child have their first dental visit?
Dr. Charles Anonye and our dental team are proud to treat patients of all ages at Heritage Dental. That is why we provide pediatric dentistry in York, Pennsylvania. Our dentist recommends that your child have their first visit around age one, or about six months after his or her first tooth comes in.
What will happen during my child's first appointment?
Your child's first visit will be short and will involve only a little treatment. The purpose of your child's first dental visit is to give him or her the opportunity to meet our dentist in a friendly, comfortable way. We want to help your child feel comfortable in our office and in the dental chair. Our dentist may ask you to sit in the dental chair holding your child during their exam. This will help your child feel relaxed and secure. Sometimes, our dentist will ask you to sit in the reception room so your child can get to know and trust our dentist. Our dentist will examine all of your child's teeth, check your child's bite, and look for potential issues with the gums, jaw, and oral tissues. Our hygienist may clean your child's teeth. Then, our dentist and hygienist will educate you about dental hygiene basics for children and answer any questions you may have.
To learn more and to schedule your child's first visit, contact our dental office today.