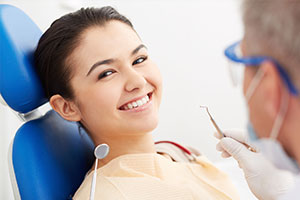 How often should I visit Heritage Dental?
Dr. Charles Anonye recommends that you schedule a teeth cleaning in York, Pennsylvania, at least every six months. During this appointment, our dentist and hygienist will perform a professional teeth cleaning, apply fluoride, perform a dental exam, and take dental X-rays.
What happens during a teeth cleaning appointment?
To begin the appointment, our hygienist will clean all of your teeth of plaque and tartar using a small, metal tool. Then, our hygienist will floss your teeth, polish them, and apply fluoride. Fluoride is a mineral that helps protect your teeth against decay by strengthening your tooth enamel. Then our dentist will perform a dental exam. All of your teeth and gums will be checked for signs of decay, gingivitis, and other dental issues. Sometimes, our dentist will decide to take dental X-rays to get a more thorough look at your smile. If any problems were found, our dentist will suggest one or more of our general and family dental services that will repair them. Our dental team will educate you about each of your treatment options so you can make an informed decision. We want you to be able to take an active part in your dental care and that of your family.
Please contact Heritage Dental today to learn more and to schedule your next visit.